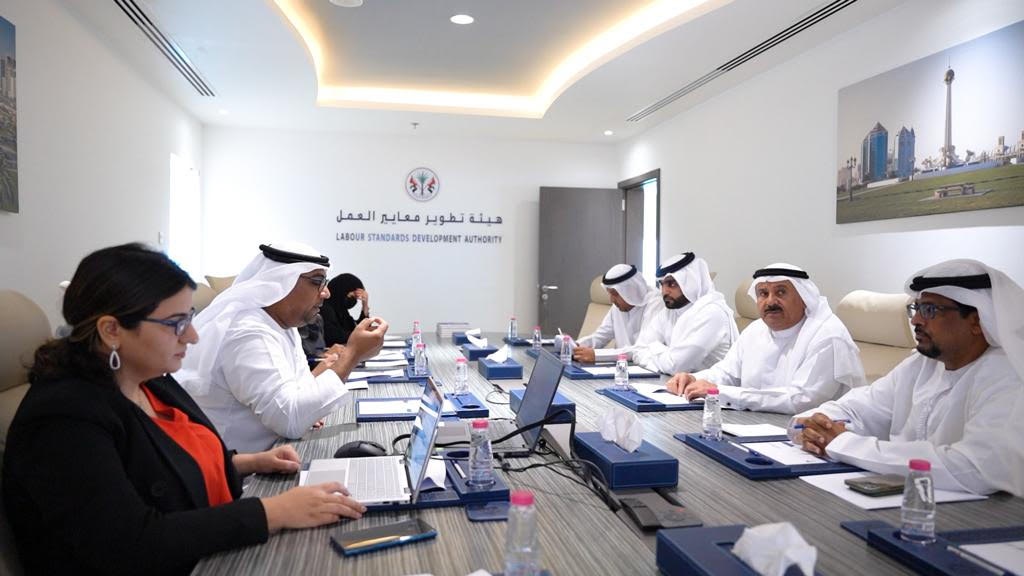 LSDA and "Kuttab Publishing" plan more educational programs for workers in Sharjah
Published Date : Jul 24, 2022
The Labour Standards Development Authority in Sharjah (LSDA) has discussed with Kuttab Publishing launching more educational programs for workers in Sharjah. At a meeting recently held in LSDA offices in Sharjah, both parties stressed the importance of such initiatives in encouraging workers to read and learn more.
The meeting was chaired by LSDA Chairman His Excellency Salem Yousef Al Qaseer, in the presence of LSDA Director Sheikh Mohammed bin Saqr Al Qasimi, and by the director of Kuttab Publishing Jamal Al Shehhi and a number of officials from both parties.
The LSDA Chairman emphasized the keen interest in launching more educational projects for workers as part of LSDA's strategy of providing cultural, social, and sports facilities and infrastructure for the labour environment in Sharjah. He said, "LSDA's mandate to have an attractive labour environment in Sharjah comes at the instructions of His Highness Sheikh Dr. Sultan bin Muhammad Al Qasimi, Member of the Supreme Council and Ruler of Sharjah, and direct followup of His Highness Sheikh Sultan bin Muhammad bin Sultan Al Qasimi, Crown Prince, Deputy Ruler of Sharjah and Chairman of the Executive Council."
He said that the present programs discussed will complement the previous educational projects, including installing 45 libraries in workers' accommodations in cooperation with the "Culture without Borders" initiative in Sharjah. LSDA has also succeeded in inviting large numbers of workers and staff to attend the cultural seminars organized at the Sharjah International Book Fair at the Expo Center Sharjah. He expressed his thanks and appreciation to all the strategic partners from the government and private sectors who contributed to the success of these projects.
The officials of Kuttab Publishing presented 11 proposed programs to spread reading and knowledge among workers, including giving lectures to workers on the most important topics they must be familiar with, organizing educational seminars for workers by influencers of their nationalities, producing books for children on the role of workers in building society, and holding events and activities for children about workers. The programs also include producing manuals to educate and familiarize workers with reading habits, creating audiobooks, installing digital and paper libraries for workers, mobile book trucks, mobile cinema screens, and workers' reading clubs, in addition to an application as a communication tool that includes all these programs.