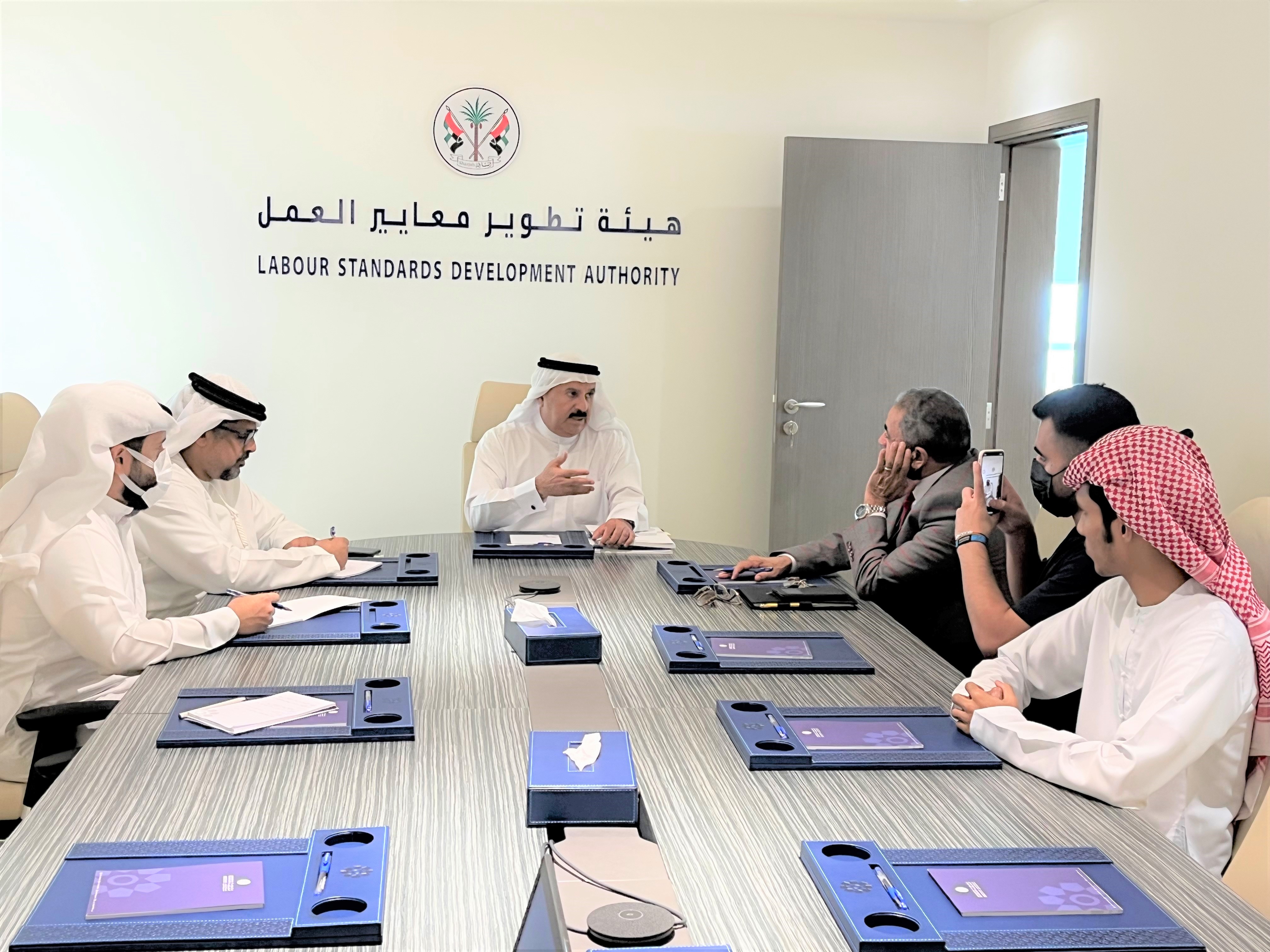 LSDA and Al Qasimia University to design training programs for workers
Published Date : Oct 20, 2021
The Labour Standard Development Authority (LSDA) and Al Qasimia University will design training programs to improve the knowledge and skills of workers in the Emirate of Sharjah. This was discussed at a meeting between them held at LSDA yesterday, Tuesday, and led by LSDA Chairman His Excellency Salem Yousef Al Qaseer and from the university's side by Dr. Ata Hasan Abdul Raheem, Director of the Continuous Education and Development Center at the university. The meeting was attended by Omar Al Sharji, Director of the Labour Standards and Policies Department at LSDA, and Omar Al Salman, Head of that department, and a number of graduating students of Al Qasimia University.
Al Qaseer briefed the visiting delegation on the current and future plans of LSDA and the outcome it has realized so far to achieve the visions of His Highness Sheikh Dr. Sultan bin Mohammed Al Qasimi, Supreme Council Member and Ruler of Sharjah, to have the emirate of Sharjah become an ideal decent environment attracting both workers and employers. He also expressed satisfaction over the role played by Al Qasimia University in spreading tolerant Islam and in focusing on the Arabic Language and affirmed LSDA's support for the university and its interest in community service.
Dr. Ata Abdul Raheem stressed the keen interest of the Continuous Education and Development Center at Al Qasimia University in working with LSDA to design training programs for workers in the Emirate of Sharjah, to develop their knowledge and skills in all fields. He said the center will be delighted to contribute to improving the work environment in Sharjah.
The meeting also discussed the potential of introducing specialized courses for LSDA in fields such as labor human resources, labor laws, and regulations, management of labor accommodations, and labor standards. It also raised other issues such as conducting labor research and surveys and conducting workshops and seminars on the labor market and designing awareness campaigns in various languages.