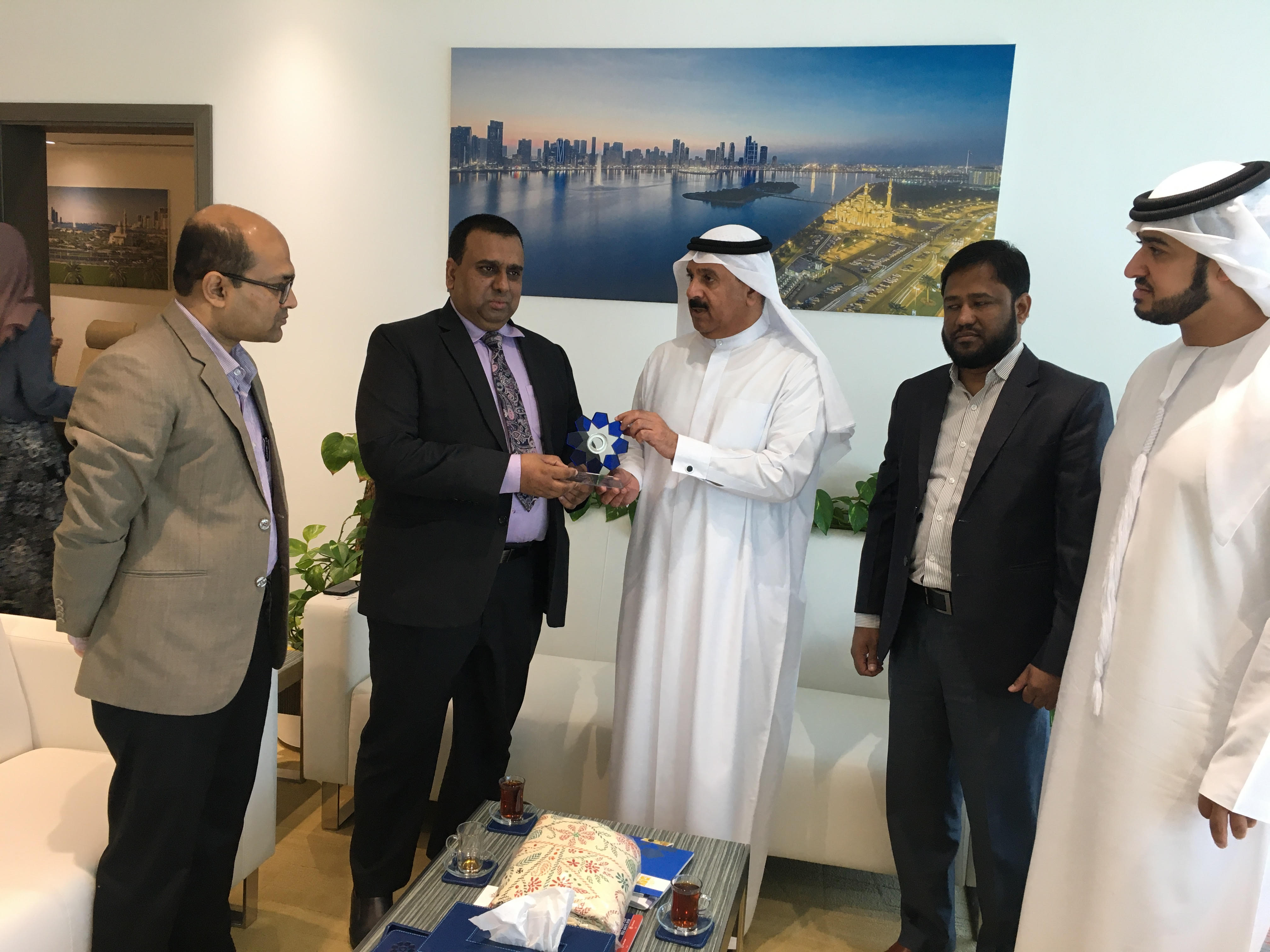 Labour Standards Development Authority to strengthen ties with the Bengali community
Published Date : Oct 15, 2019
His Excellency Salem Yousuf Al Qaseer, Chairman of the Labour Standards Development Authority in Sharjah (LSDA), received in his office today, Tuesday, a delegation from the Consulate General of Bangladesh in the country, headed by His Excellency Md. Iqbal Hussain Khan, the Consul General. The meeting discussed ways of mutual cooperation to improve the conditions of the Bangladesh community in Sharjah, and the LSDA's strategic plan to strengthen services it offers to workers and employers.
His Excellency Salem Yousef Al Qaseer said that the main objective of the meeting was to exchange views on ways of joint cooperation to improve the living conditions of the Bengali community in Sharjah and to explain the objectives and achievements of the Authority and the services it provided to workers in general. "The importance of such meetings is that they open up a wide range of opportunities for us to learn more about the communities, their aspirations, their hopes and the difficulties they face, and how we can overcome them," he said.
Salem Al-Qaseer briefed the visiting delegation on the current policy of the Labour Standards Development Authority, its implementation method, the results achieved by the Authority so far, and the future plans that the Authority will implement during the coming period to reach a high-quality level capable of achieving aspirations and visions of His Highness Sheikh Dr. Sultan bin Muhammad Al Qasimi, Member of the Supreme Council and Ruler of Sharjah, to have the Emirate of Sharjah become an ideal and attractive environment for workers and employers alike.
His Excellency Md. Iqbal Hussain Khan, Consul General of Bangladesh, expressed his delight at visiting the Authority and learning about its achievements. He said, "I was delighted to meet His Excellency Salem Al Qaseer, Chairman of Labour Standards Development Authority in Sharjah. He heads a unique authority in the region that is concerned with developing labour standards in the emirate.
I was delighted by what I learned during the meeting about the work of this authority, found to serve as a bridge between workers, employers, and the local community, as well as the services it provides to the workers and employers in all areas of the Emirate of Sharjah. We are always looking forward to such meetings, which will help us further improve our mutual cooperation."
The meeting came within the framework of the LSDA's strategic plan to communicate with representatives of various communities in the Emirate to identify their needs and coordinate between them and the various institutions of the public and private sectors to achieve such objectives.